Welcome to St. Andrew's Children's Ministry!
Christian Ed brings you…Virtual Sunday School!  A new lesson will be posted to this page periodically, so check back often and keep your eye on our weekly newsletter, The Loop, for more info!
Contact Elder Kristina (krisv2180@yahoo.com) with questions!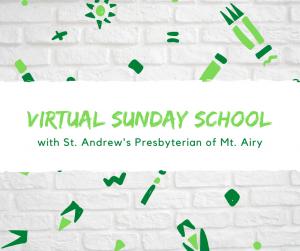 Sunday School at St. Andrew's
Our children's education in Christ is just as important as that of the adults.  On Sundays, we provide 9am Sunday school classes for all ages with a Biblically-based curriculum (preK – 12th grade) where each week the lesson teaches children how Christian values relate to them in the modern day world.
The class ends right before 10am worship so parents can simply grab their child, and head into the sanctuary.
Children's Church at St. Andrew's
Parents need the space during worship to focus and grow in their spiritually.  In order to aid in this, we provide Children's Church for ages 3 (potty trained) – 10 (5th grade).  Children are dismissed about 15 minutes into the Sunday service, and are signed in by their parents with the adults in charge that weekend.  Activities include: crafts, coloring, Veggie Tales, some constructive playtime, and peer fellowship.
Nursery at St. Andrew's
Nursery is provided for babies through age 2.  Parents drop child off and sign out a pager in order to be contacted during service for diaper changes and/or other needs.